So I received a lot of messages about how the hell I am able to finish LoT-minibosses in 3 min. So I will give you guys my little guide for farming LoT.
Items required
-Health Potions and bandages (For people new to this dungeon)
-Scroll of Savagery V (unmissable as dps, this will greatly increase your dps)
-Nostrums (I don't realy use this in LoT, this is used to reset your cooldowns faster. Its buyable at merchants)
Charms
- Greater Power Charm / Greater Keen Charm (if you think your critrate is too low go for keen)
- Greater Enduring Charm (as always)
- Greater Infused Charm (always use this one, so you won't get mana issues)
My Crystal Setup
Weapon Crystals
- Fine Focused Crux: Increases your crit damage by factor 1.7 against enraged monsters
- Fine Savage Crux: Increases your crit damage by factor 1.2 when attacking from the rear
- Backbiting Crux: Increases your crit damage by factor 1.38 against normal monsters when attacking from the rear
- Fine Carving Crux: Increases your critchance by 3%
Armor Crystals
- 4x Fine Relentless Crux
- or 4x Stalwart Crux
- or a mix of both.
- I tried to go with 4x Fine Vigorous Crux, in my opinion its useless
Basic Information
As you can see in my crystal build, I go for a full critical build. All minibosses in LoT go enraged at about 75% hp!! With this crystal build you will be able to kill them soooo fast. Make sure you attack them from the rear, which means attack them in their ass, they will like that.

 With this build I am able to kill a miniboss in 1 hit. LoT contains a few regular monsters, which you can either choose to dodge, kill or just leave them attacking your ass. I usually go for killing them, because i have plenty of time (It's boring to wait outside LoT). You will also encounter Zuulhounds, these sadists are annoying, they will not only run away from you because theyre scared shitless, they will also pull every single monster they run into. These doggies are easy to dodge, but also easy to kill with stuns and shit. Minimum Itemlevel required for this 151, but I recommend ilvl 153! If you are not able to finish this dungeon within the cooldown time, do not farm it!
Walkthrough
Once you enter Labyrinth Of Terror, you can choose either to go left or right, usually I take the left one. Many people don't know this but, since LoT has a 10 min cooldown, and since you will be able to do this shit in 3 min, you'll have a large cooldown. Cooldown for a dungeon starts when you attack a monster, this means attack the first monster you encounter! When you choose to go left you will run into some zuulhounds fast enough, hit one of them with normal attack, the cooldown will start. Now once you chose to go left you'll run into like 4 monsters, you can choose to kill them, or you can use the ladder bug!
Ladder Bug
This is a well known bug in LoT, after those 4 monsters you will arrive at stairs which will take you down. Now here is the bug, just jump down the stairs and hide underneath the stairs. Note: you will have to be in the most claustrofobic part of the stairs, like in the picture. But more to where I point my curser, couldn't take a picture there because you get some flippy screen. If you stand there all the mobs that are currently chasing you will reset. Just wait some seconds

 Note: if you think you can kill those freaking monsters faster then using this bug, then wipe the shit out of them.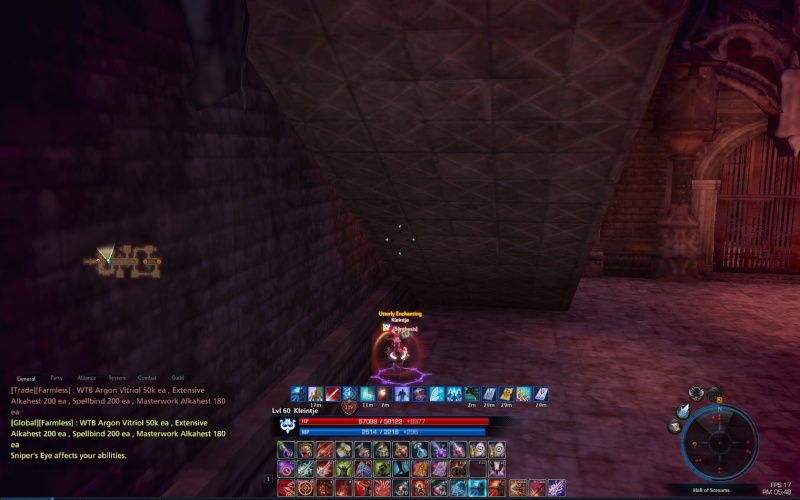 First Miniboss: Kroak
Most of the new ones here will find this boss a pain in the ass, he knocks you down soooo often. You'll be fighting him in a room with 4 pilars, those pilars will place some annoying lasers around them at ?% of the boss ( if you know when lemme know so i can change it) Those lasers will appear 2 times, unless you're killing it as slow as Genesis. Make sure you are standing in the centre of the room for the entire fight, so no laser will bother you. He will go enraged at 75% and again at like 15%, when he goes enraged its your time to crit the shit out of him.
I will analyse his attacks for you
- Punch in the face: He will just hit you with 1 fist, this attack does minor damage and will
not
knock you down.
- Wide Arm attack: He will stretch his arms and give a laarge aoe attack, like this guy

. Unless you are heavy armor or a block noob this will most likely knock you down
- Slam on the floor attack: He will smash his both fists at the ground, deals more dmg then punch in the face, and
can
stun you for 7 seconds!
- Weird slow jump attack: I don't know who made this but the dude will jump slowly in a straight line, when he is about the kiss the floor he will jump at you. This attack is sooo slow, deal some major damage in this time. Besides, this jump won't deal much damage.
Second Miniboss: Xalory / Organ's girlfriend / Whip Bitch
This lady is a
PAIN
whoever invented this bitch is a sadist. This one will also go enraged on 75% and 15%.
I will analyse her attacks
- Paw attack: she will stab you with her paw, nothing special about this, deals minor damage.
- Lash attack: She will whip you, deals some more damage then her paw, still nothing special.
- Sadistic Jump Attack: This one you want to dodge, seriously dodge this shit. This attack is fast! She will jump up and crash down, dealing relatively large damage and will give you a debuff for 60!!!! seconds, in those seconds you can do nothing but run around like a chicken and use potions

 This attack is blockable, and you can counter it with mystic balls or motes that drop from monsters!
Some tips for this bitch
- Take some monters from the hall to the small entrance hall to her room, kill them there. If you're lucky they will drop some health motes. If you happen to catch the debuff, take a health mote to counter it.
- She won't do this jump attack when she's not enraged. When she goes enraged she will do her paw attack. After that attack she will jump, before she's going to jump her moving speed will slightly increase. Now is ur time to get ur backstep or block skill ready! When she jumped and you succesfully dodged it, she will do 4 times her normal attacks and jump again! After this jump she will go out of her enraged mode and you can destroy the shit out of her. On like 15% she will go enraged again and do the same cicle as on 75% hp.
- If you take the debuff and you have no motes at the entrance, just run around and think about all the good things in life. Do not get annoyed!
Final miniboss: Infizhaer
The most easy boss of them all, just dps the shit out of him. And again this one will go enraged at 75% and 15%.
Analyse of attacks:
- Axe attack: he will just slam his axe on you, nothing special, poopsie damage..
- Axe 360 degree attack: He will charge up his axe and make a 360 degree close combat aoe. This will most likely knock you down.
- Some weird bubble in front throw attack: He will cast some bubble in front of him, easy to dodge. low damage.
- His SHIELD attacks: He will summon some annoying shield that reduces the damage on him. When he does this shield he can do 2 attacks. One of them is an attack in a straight line in front of him, he will repeat this attack 3 times. The other attack is a circle aoe, you will see red circles on the floor. He will repeat this attack 3 times, with each time a bigger circle.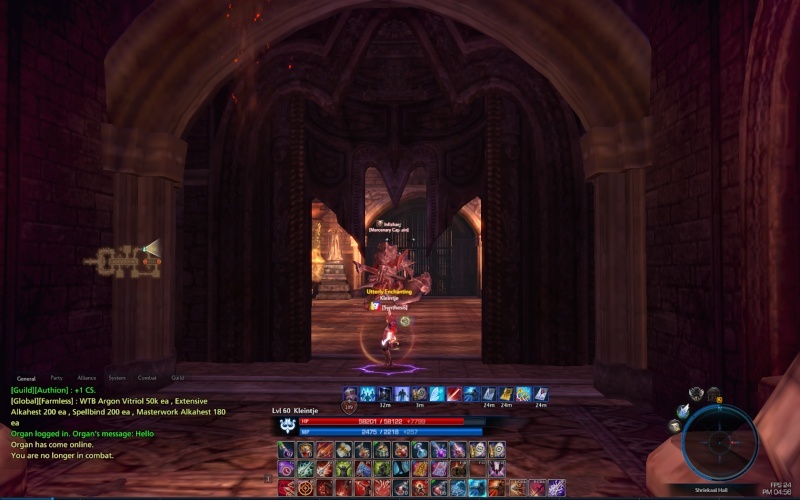 When you killed this one type /reset in the chat and wait for your way too long cooldown. And run again! and again! and again!
Drops in this instance (first 3 minibosses only)
- MWA MWA MWA, masterwork alkahest, you will most likely be farming this.
- Also keep an eye on the floor for expensive cruxes, don't miss any anarchic or relentless crux!
- Refined alkahests, you will hate these things for sure, you don't wanna get them. But don't forget that theyre 14-15 gold at merchant! I usually sell them for 10 gold each to guild members or trade them for Scroll of Savagery V with Shabran !

If I did something completely wrong in this guide, let me know. If I have to add something, let me know. If you have some tips, let me know. If you have questions, let me know!
/w Kleintje ingame

(I won't accept any critics from Genesis